Here is a sweet birthday card that Charmaine shared with me. It features Birthday Cup Mouse, and has a very cute sentiment. She also took snippets of the stamp and put them in little flags!
How cute is that?
And of course I love the little bits of glitter and gems. :-)
Here's your badge, Charmaine!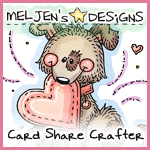 (Right-click and save it to your computer so you can display it proudly on your blog)
Don't forget to visit her blog and leave her some love! :-)