Julie shared this lovely card with me…she used so many creative techniques to make it! Look at all of the lovely embellishments and layering…and she also made her own background paper.
Visit her blog post to read more about it. :-)
Here's your badge, Julie!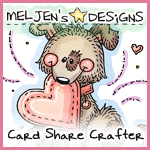 (Right-click and save it to your computer so you can display it proudly on your blog)
Have a lovely, crafty weekend everyone!