Zulma decided to share this really cute treat holder with me. She told me that this little stamp (A Girl and Her Overalls) reminds her of what she looked like when she was young!
 
I personally love the little gem flower embellishment on the edge with the 'Just 4 You' barcode. How cute. :-)
Here's your badge, Zulma!
Thank you for sharing your cute craft with us!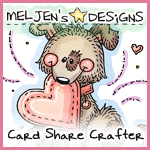 (Right-click and save it to your computer so you can display it proudly on your blog)


Don't forget to visit Zulma's blog and say 'hello'!