Donna shared a picture of her ADORABLE trick or treat boxes that she made with my Stitched Trick-Or-Treat digital stamp.
She has more pictures on her blog post, showing how she made them!
Very simple and VERY fun! I LOVE the little pumpkin faces! Aren't they cute?
I hope this inspires you! I know it inspired me. :-)
Thank you Donna for sharing!
Here's a badge for you. :-)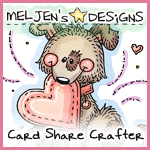 (Right-click and save it to your computer so you can display it proudly on your blog)
To all my readers… if you have any creations made with Meljen's Designs stamps that you'd like to share, email me pictures along with your name and a link to your blog if you have one!
HAPPY HALLOWEEN!