I'm so excited to show you another card share! Our friend,
Jaimie
in Belgium shared this wonderfully clean and simple autumn card...
Take a look at Jaimie's
blog
! She has some more adorable cards and projects!!! Leave some love and let her know that you saw her card here! ;-)
Thank you Jaimie, for sharing your card with us!
This badge is for you to display on your blog!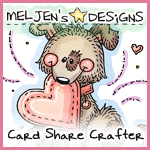 You can share your creations with Melissa by e-mailing her at
mnjenkins@hotmail.com
or share them with us on the Meljen's Designs Facebook page HERE:
Meljen's Designs
!!